Dillon Haltom
October 5, 2023
---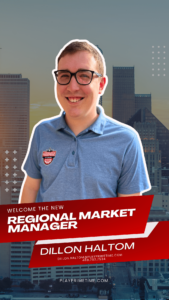 Meet Dillon Haltom, the new Regional Market Manager! Dillon will guide your teams as they play in events in College Station, Louisiana, Oklahoma, Austin, and more! Dillon has been with PrimeTime Sports since early 2023 and has played a huge role in past tournaments! Here are some fun facts about Dillon:
Dillon graduated from SFA for undergrad and continued his education by receiving his Masters from UNT📚
Dillon worked in collegiate basketball for 4 years🏀
He is a huge animal lover! He has a dog and 2 cats🐶🐱
📲Say hi to Dillon at 469-782-7534 and start planning your team's events outside Houston and Dallas.